Top 5 reasons why Travis Perkins is a great place to work
The Travis Perkins Group is a leading partner to the construction industry and the UK's largest distributor of building materials. But behind the scenes, we're so much more than that! With over 200 years of experience, innovation and compassion behind our name, we know not only how to cater to the needs of our customers, but crucially, our people too.
Whether you're a school leaver looking for your first job, an experienced professional in need of a new challenge, or you're ready for a complete career change, now's the time to explore why Travis Perkins is such a great place to work.
1. We care, we give our best to be the best, and we're better together
Our company is stable, with a strong outlook toward a better, more inclusive and sustainable tomorrow. We know that to ensure our future is bright, we must do right by our people.
We have a proud history of upholding our values; We care, We give our best to be the best, and We're better together, and they are our culture's most recognised and celebrated aspects. Our people know that in those moments that matter, they're supported and cared for.
In the words of our Chief HR Officer, Emma Rose; "values don't exist in words, they live in actions. They are the invisible glue that holds us together."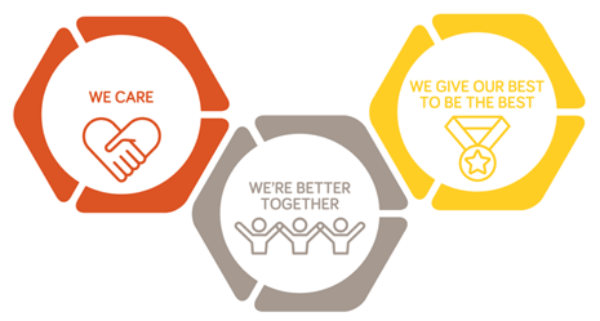 2. A benefits package that grows with you
We know that a person is more than their job, and that a job is more than a pay slip, which is why our rewards and benefits are designed to do more than just meet our colleagues' financial needs. To ensure their emotional and physical wellbeing needs are also supported, we offer: 30 days annual leave (including Bank Holidays) rising to 35 days with service, progressive paid family leave policies, contributions towards pension policies, a vast array of discounts with retailers (including major supermarkets, cinemas, holidays, utilities, gym discounts, experience days and eating out) and much more.
At Travis Perkins we want you to be happy and fulfilled both inside and outside of work, so whether you're an experienced Branch Manager or you're completing an Apprenticeship, you'll have access to our generous packages with fabulous perks and benefits.
3. Extensive career development
Many people choose to stay within the Travis Perkins Group because of the vast network of opportunities available within and across the business(es). With us, there's always room for growth, exploration, and career development. We don't believe in standing still and going stale, so we're always challenging and motivating ourselves and each other to do better.
If you are driven and want to climb the career ladder to a top position, then we'll support your goals and even provide you with the means to do so. We want you to succeed (we're on your team)!
4. Our commitment to being a truly inclusive employer
We're not perfect, but we are continuously improving ourselves on our journey to becoming a truly inclusive employer. We want everyone to be at their best and it's our ambition that everyone within our Group feels safe, welcome and confident to be their authentic selves.
You be you, it makes us, us, as we say.
We're all committed, from our senior leaders to our passionate, dedicated colleagues across the business, to becoming an industry leading employer of diverse teams, where everyone feels they can belong.
From flexible and hybrid working arrangements, to access to our supportive networks, we take care of our colleagues and pay attention to their needs (and beliefs). With us, you have a voice!
5. We're driving meaningful change with our ESG agenda
Our job doesn't stop at supporting the construction industry with building materials and resources. We have a bigger role to play – one that we're very passionate about.
At Travis Perkins, we take sustainability seriously. Our Environmental, Social and Governance (ESG) approach puts the safety and well-being of society first. By offering sustainable products and services, conducting responsible resourcing, and ensuring meticulous waste management, we are getting ever closer to reaching our net zero carbon goals.
We are also actively involved in charities and volunteer work, like introducing Prostate Cancer UK branded vehicles to our fleet to raise awareness of and donations for this leading men's health charity. It's important to us that we give back!
Are you ready to be part of this change?
Find a job at Travis Perkins - we'd love to have you!
We're a group of many great businesses, including Keyline, CCF, BSS and Toolstation. This means we have plenty of exciting and varied jobs on offer, including branch, store and showroom jobs, IT and digital jobs, HGV driver jobs and more. We're eager to welcome driven individuals who appreciate our positive outlook and can contribute to the growing success of our Group.
If you need flexibility, we'll support you as much as we can. Many of our roles can be part-time, and we have positions for candidates with all types of experience and qualifications.
Browse and apply for our available jobs, or sign up for job alerts so you never miss an opportunity!
List #1
Roles you may be interested in