We are committed to supporting our colleagues to develop their careers, giving them not just the necessary skills and knowledge training but also the autonomy they need to figure out how to do things their way.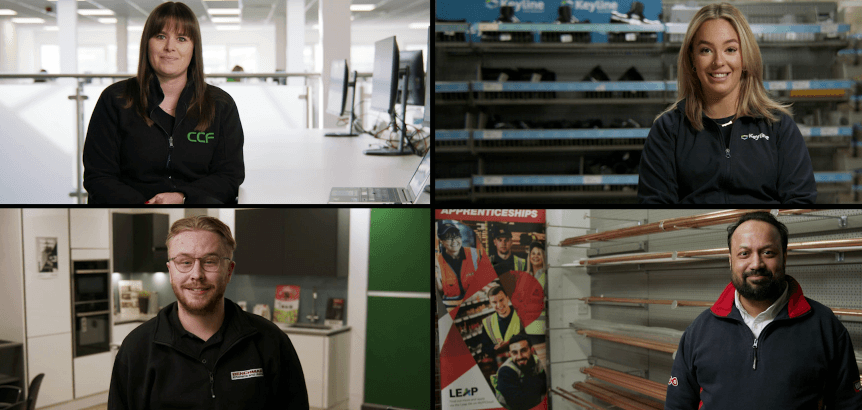 10,000 times better
We have announced an ambitious target to bring 10,000 new people into our industry through apprenticeships by 2030 and train them for the construction industry of the future.
Our award-winning apprenticeship programmes are designed to set colleagues up for a successful career. We want our colleagues to build transferable skills and knowledge that will help them grow and develop, not only within our business but elsewhere too.
Our Apprenticeship Programmes
Our partners
Our main apprenticeship partner is LEAP Apprenticeships & Early Careers although we also work with Multiverse, Exeter University, the National Logistics Academy and the Open University to offer over 40 different programmes, from Level 2 to Level 7.
Subjects that include; Kitchen Design Apprenticeships, Sales Apprenticeships, Buying and Merchandising Apprenticeships, Data and Management Apprenticeships and more.
Help us to build better communities and enrich lives
Our industry has some huge challenges to tackle over the next few years. The built environment currently produces almost 40% of carbon emissions in the UK. As a business, we are committed to
reducing carbon within our industry
by driving modern building techniques and upskilling our customers to make use of these. We see Apprentices as a vital part of this change process, coming up with innovative new ideas that will help us to achieve these ambitions. Joining us will give you real opportunities to positively impact our business, and our industry, helping us to build better communities and enrich lives.
Hear from our Apprentices

Apprenticeship FAQs
Our awards
We are proud to have been recognised for the following
Best 100 Employer
We are proud to have been ranked 23rd in Rate My Apprenticeships Best 100 Employers for 2023, the UK's leading job resource for young people seeking apprenticeships. Read through honest reviews of our apprenticeships, written by our amazing apprentices
Read Reviews

In May 2023 our apprenticeship scheme was awarded a 'Good' rating in all areas of the assessment by Ofsted highlighting our commitment to developing the next generation.
Read Ofsted's report