How to become a great manager with an apprenticeship
Our LEAP Apprenticeship programme allows our colleagues to learn and earn whilst they progress in their careers, with our skilled in-house team delivering the majority of our programmes. Every participant receives the support they require and is instructed on how to maximise their apprenticeship experience with the assistance of the LEAP team and their Apprentice Coach. Each programme is created to provide our apprentices with the skills they need to advance their careers, regardless of their level of experience.
We spoke to Irina, who is loving her role as a Store Manager at Toolstation, about why she took the LEAP and feels her level 4 Retail Manager apprenticeship is a dream come true.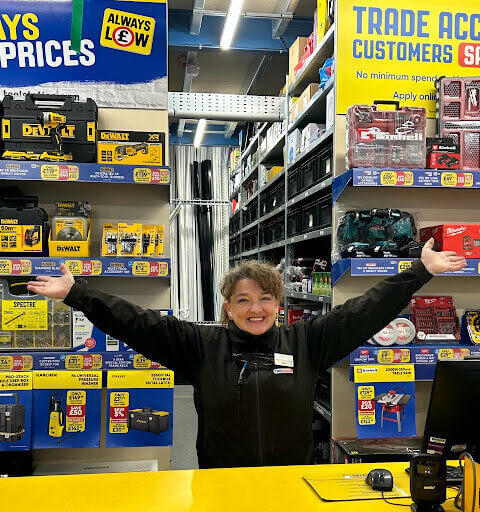 Read More
Irina, what first attracted you to the apprenticeship programme?
"I was drawn to the potential to pursue higher education because I knew it would give me the ability to learn things that I could use every day while working. It's a once-in-a-lifetime opportunity to earn whilst learning.
The apprenticeship helps me to understand the business, develop opportunities for my career and reach my full potential!"
How have you been supported throughout the apprenticeship programme and beyond?
"I was always confident that my Coach Phil would be available to me if I had any questions or needed to clarify expectations or study strategies. He made it so much easier by returning my call straight away, scheduling unplanned webinars, and being really patient and clear with his instructions. Keeping your Coach updated on your progress is really reassuring, if they know how you are doing in the branch as well as with your study they can map your learning to what works best for you.
My regional manager provided me with the details I requested and the additional hours I required to complete my lessons while working. My English tutor Lorraine was always prompt and happy to speak with me every time I requested a call. She never rushed me and I always enjoyed listening to her. Keep in mind that the more you communicate with coaches and tutors, and the more effort you put in, the higher your reward will be.
My team in the branch is behind me, supporting me all the way. So, you see, there is a whole team behind you, a great team who is ready for your arrival and ready to support you when you need it."
What's the best thing about an Apprenticeship programme with LEAP?
"My favourite thing about the Apprenticeship is that I get to share my skills!
I've involved all of my colleagues and they supported me with my English lessons, tasks for my diploma, and my presentations. They have always looked after me very well (not just keeping the coffees coming!) but their strengths were put to the test and together we developed a culture of learning resulting in bonding us better than ever before. We are now known as The A-Team.
I don't feel isolated, or that by doing my learning I am moving further away from my team, the opposite in fact. It has brought us closer together; we are all inspired to learn and be the best we can be!"
How has the apprenticeship programme set you up for success?
"I have put into practice tasks I learned during my apprenticeship into our routines in Branch, but I have also understood more about how the business is run. I have learnt about processes and team members that I did not know before. I have had the opportunity to speak and work with colleagues at a senior level who I would not have come into contact with otherwise. I have met people from different departments and had the opportunity to share ideas that have the potential to improve practice across the business.
Studying for my English, there were times when I could not understand words, phrases, or meanings of words and my tutor was there to help. I am now at a level where I can confidently write formal and informal letters, emails, articles, and reports in a professional manner, and am using this knowledge on a regular basis.
Although I passed my English exam, I continued learning a new word each week with my team. We put a new word on the whiteboard and use it at work and at home, we learn together and have fun!"
What has been your proudest moment since starting your Apprenticeship?
"Achieving my Level 2 in English and being close to completing my apprenticeship! I have been meaning to have a go at it for many years, but I could never commit due to costs and time. The company is giving me the opportunity to study at work and at home, something I could not comprehend before. I want to know everything, I want to better myself in the English language, I want to be a great manager (not just a manager!) and I consider myself very lucky to be given this opportunity."
Any advice for someone thinking of enrolling on an apprenticeship?
"Absolutely, go for it! Everyone fears exams, but it is not like in the classroom as you remember it. It is fun, you make new friends and learn during this process. Embrace this opportunity, it may never come your way again, so make the most of it and enrol.
Once you've done it, you will be so proud of yourself, and of your achievements, it also gives you that extra confidence and power to deal with anything life may throw at you. It made me understand the role I play within my team and the importance of a deeper understanding of how the company works."
Are you a member of any Diversity & Inclusion colleague networks?
"I am not currently a member of a diversity and inclusion network, but I did a free-of-charge course on my own accord so I can have a better understanding. It made me value, respect and welcome new ideas and opinions regardless of beliefs, sexual orientation, and nationality.
I am part of a great multicultural team who are supporting each other, we work well together, we are respectful, open and honest, tolerant and we are a family!"
To sum up, why do an apprenticeship?
"I would like to THANK the LEAP Team for giving me this incredible opportunity which I had dreamt of for such a long time and never had the courage to do on my own. I have learnt how to talk at all levels, I have learnt how to do my job the best I can, and I have learnt that without this apprenticeship I would have continued to stay still for the rest of my career and would have never improved. I am enjoying an astonishing experience!
There is a time in life when we all choose different paths, but some options life is offering us are limited and rare, so why not try them out? It will open new windows of opportunities and you will desire to continue. You will be a better person, and a better colleague and you will have the confidence and ability to guide and support others through their careers too.
If YOU do it, the rest of the team will follow suit, so give me your hand and make the step, enjoy it, and have fun along the way."
Find an apprenticeship opportunity with us
If you're ready for the challenge and are interested to see how much you can learn from an apprenticeship, don't hesitate: find the right apprenticeship for you today and grow your career!
List #1
Roles you may be interested in