Creating a Culture of Belonging: Celebrating Ramadan at Travis Perkins Group
At the Travis Perkins Group, we are committed to creating a culture of belonging where everyone feels welcome and confident to be themselves - you be you, it makes us, us! We celebrate moments that matter to our colleagues, communities, and customers throughout the year, including Ramadan.
We caught up with Operations Manager, Travis Perkins Staples Corner and ACE network Lead, Serina Punjani. She shared what Ramadan means to her and how she celebrates.

"For me, Ramadan is the most special time of the year. It is a time for reflection on my previous year to see what I have achieved and to think about if/how I have made a difference, not only to improve myself but to see how I may or may not have helped others to make a positive difference." - Serina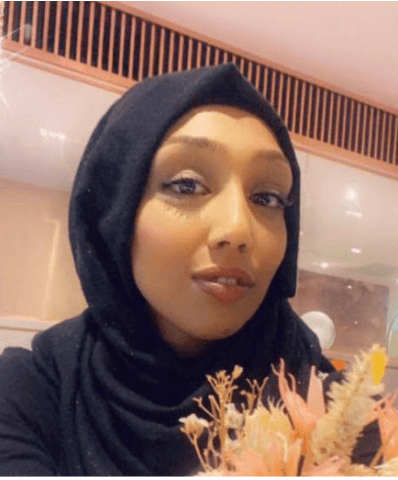 Read More
What is Ramadan?
Ramadan is the ninth month in the Islamic calendar, which is observed by millions of Muslims worldwide as a time to reflect and pray. During daylight hours, people observing Ramadan will fast, eating only pre-dawn and once the sun has set.
"It is also my time to take a step back and reconnect with our Lord and kind of reset for the year ahead. It's the best of times for one to grow closer to Allah (God), and gain more knowledge and growth within myself, not only in this life but in the hereafter." - Serina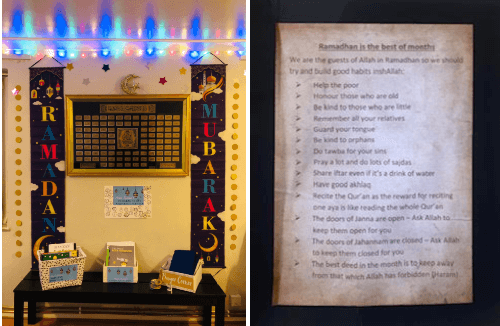 When does Ramadan start and end?
Muslims follow the lunar calendar (based on the cycles of the moon) which means Ramadan falls on different dates every year and starts on the first sighting of the new moon and lasts for around 29 to 30 days. This year Ramadan starts on the evening of the 22nd of March and ends on the evening of the 21st of April 2023 (depending on the moon sighting).
"It is the month where we believe the Quran was revealed to our last Prophet, Mohammed (peace be upon him). It is not known exactly which day, so Muslims all around the world spend the majority of the nights in Ramadan praying and reading the Quran. The nights of the 19th, 21st, 23rd and 27th day are believed to be the most likely and referred to as 'Layla-tul-Qadr', the 'Night of Power' where all your efforts and prayers manifest as the Lord sends down his angels and writes your future for the year ahead.
Some Muslims also believe the first Imam who came after our last Prophet, Imam Ali (peace be upon him) was killed on the night of the 20th day of Ramadan while in prayer, so extra prayers are recited on this night also." - Serina
What is the purpose of fasting during Ramadan?
There are five Pillars of faith in Islam - practices Muslims are advised to follow. Fasting during the month of Ramadan constitutes one of these five obligations.
The four other pillars are Shahada (the profession of faith), Salat (praying), Zakat (charity) and Hajj (pilgrimage to Mecca).
"Fasting is done to show us how no person is bigger or better than the other. Everyone feels the hunger, the struggle and the pain when fasting. We are all the same no matter how wealthy, no matter what race, or where we are from and this is when you ultimately feel this and show the appreciation moving forward - taking what we have learnt during the month of Ramadan into the year ahead. Ramadan teaches us many lessons such as patience, knowledge, and so much more!
Charity is also a big part, to try to share what you can no matter how little or large, we try to give more during this month to those who aren't as fortunate as us." - Serina
What is Eid al-Fitr?
Eid al-Fitr marks the end of Ramadan and translates as the 'Festival of Breaking the Fast'. This is a time to spend with your family and friends, exchange gifts and sweets, give back to people in need, enjoy festive foods, and pray for your blessings.
"At the end of the month, Eid-al-Fitr comes! A time of celebration! A time when families gather from all over to celebrate the end of Ramadan and feast for the majority of the day. Gifts are exchanged, the kids run wild, and the fun and games go on till we can't take it any more!" - Serina
How can non-Muslims participate in Ramadan?
It is important to be mindful and remain sensitive to others' religious beliefs. Most people observing Ramadan are open to being asked questions about how they celebrate and how you can get involved.
Non-Muslims can show their support and respect in a number of ways:
Educating yourself on Ramadan by reading up about the festival or having conversations with Muslims about their experiences during the month.
By practicing empathy and understanding. Fasting can be difficult and can affect people in different ways, it is important to show patience and be supportive. For example, whilst at work, offer a later start time and/or regular breaks during the day to help combat feeling weak or tired due to lack of food or sleep, or maybe the option to work through lunch breaks and leave earlier or work from home, if possible.
Attending iftar with Muslim friends and colleagues. This is the meal where the fast is broken and is hosted by many Muslim communities. This is a great way to learn more about the culture, participate in the celebration, and build new friendships.
How Travis Perkins supports our colleagues in Ramadan
"Being a full-time working mum, Ramadan tests me in many ways. As hard as the struggle is at times, I try to look at these tests as blessings, helping me to be a better me. Staying up during the night for prayers, the early mornings, going to work, doing school runs and keeping up with the normal day-to-day lifestyle can be exhausting.
My manager is supporting me by giving me time to pray, flexible hours, and allowing me to work from home where possible. Elsewhere in the business prayer/reflection rooms have been organised to accommodate not only colleagues who are fasting this month, but also customers who may want to use those facilities." - Serina
We celebrate and educate about cultural and observance events through our Awareness of Cultures and Ethnicities (ACE) network. As part of this initiative, we have introduced Multi-Faith and Wellbeing Rooms, where people of all faiths can take some time out of their day to pause and reflect.
You be you, it makes us, us!

Join our inclusive and diverse teams and apply for a job within the Travis Perkins Group today.
List #1
Roles you may be interested in
We are sorry but your search has returned no results.
Please try some of the links below to find what you are looking for:


View all jobs