Day in the life of a Travis Perkins Driver: Dean's Colleague Story
Our HGV Drivers are not only valued team members, they're also skilled navigators, maneuverers, and the custodians of excellent customer service. We caught up with Dean, one of our HGV Drivers at Travis Perkins Eastbourne, on his journey at Travis Perkins, the opportunities rewarded to him, and the unique aspects of his role.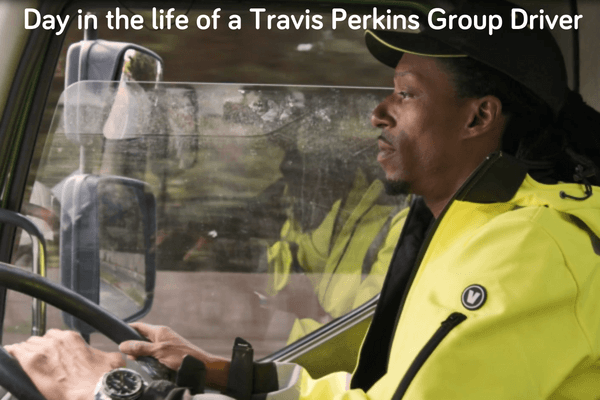 Upskilling opportunities
Dean shared that one of the best things about his role is the training and upskilling opportunities that were available to him. He has gained his CPC certification and is up to standard for VOSA and FORS.
For those of you who don't know what a CPC certification is - it is a qualification required for professional drivers of vehicles over 3.5 tons and ensures that drivers are equipped with the necessary knowledge and skills to operate commercial vehicles safely and efficiently. The Travis Perkins Group covers Driver CPC Renewal - just another perk of the job!
He also secured his crane license and has learnt a lot about green band driving which has made his driving even safer.
We invest in our colleagues at Travis Perkins as we understand that this is the key to securing the future of the Group's businesses and the construction industry more widely. If you are looking to lay the foundations or build your career in a driver job, we have the scale and breadth of opportunities to help you grow and develop.
Connecting with customers
Dean enjoys working with customers because he loves making them laugh and spreading positivity. Often these interactions make his day. Some of these customers are regulars and building strong relationships with them is how Dean is able to deliver an exceptional customer service experience.
We're here to help build better communities and enrich the lives of those who live there by supporting our customers. If you are a people person and love driving, an HGV driver job could be the role for you.
A supportive work environment
Dean considers himself fortunate to work with a team of great colleagues. He shared how his managers have supported him from day one, without putting pressure on him and make him feel valued and appreciated. They make sure his vehicle goes out safe and comes back safe too.
We care at Travis Perkins. This means we look after each other's safety and well-being, treat people with respect and encourage everyone to be themselves.
A healthy work-life balance
In previous HGV jobs, Dean found himself working 12 to 14 hours a day. Whereas, at Travis Perkins, Dean has achieved a healthy work-life balance and is able to go home and spend time with his friends and family.
Most of our Drivers are back in branch by 3.30 pm and finish at 5 pm. We understand how a great work-life balance can contribute to your overall wellbeing and we want you to be at your best.
With set working hours, local, multi-drop runs, and industry-leading training along with individual incentive and reward initiatives, we aim to create an environment which helps our Drivers thrive.
Drive your way into a successful career
"Joining Travis Perkins was a great choice for me and can also be a great choice for you."
You're more than just a Driver. You are the face of our business. Ready to apply? Browse our available HGV driver jobs today and accelerate your career within the Travis Perkins Group.
Interested in becoming an HGV Driver but don't have the necessary driving licence and/or up-to-date driver CPC records? Register your interest here.
List #1
Roles you may be interested in