Top 4 skills of great Assistant Branch Managers
Are you looking to step into Management? Do you want to grow and develop your own skill set? At the Travis Perkins Group, the largest distributor of building materials in the UK, we have Assistant Branch Manager opportunities waiting across our BSS, Keyline, CCF, Travis Perkins, and our other businesses.
Whichever business you work for, our Assistant Branch Managers are passionate, inspirational, and engaging leaders who possess 4 key skills. These skills give them the tools they need to build a rewarding career and are the reason they are key players in the success of our business.
Here are the top 4 skills of an Assistant Branch Manager: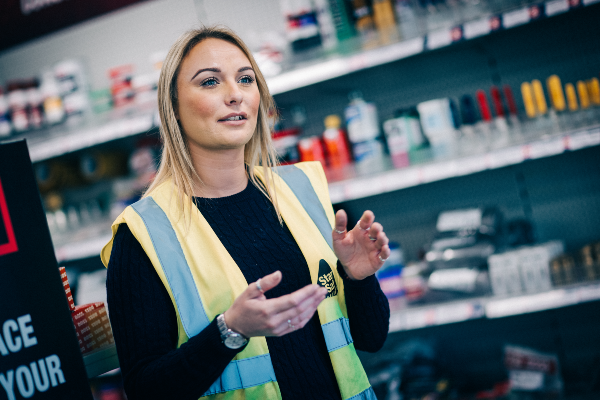 Skill 1: Leadership
Good leadership is influencing people and guiding them in achieving a common goal. In this role, you'll be able to spot a great commercial idea, influence, persuade and deliver it.
In terms of delivering it, you'll be able to delegate successfully and empower colleagues to take accountability and lead areas of the branch, creating and cultivating a "one team" approach.
You'll set the tone and champion a 'Stay Safe' culture across the branch at all times promoting a healthy workplace and colleague wellbeing. At Travis Perkins plc, we care, which means we look after each other's safety and well-being and treat people with respect. And as a leader, your role will be to make sure your branch team is happy and encourage everyone to be themselves.
Skill 2: Customer and sales focused
Being customer-focused is putting our customers at the heart of everything you do, recognising that delivering great service for our customers results in great sales for our business.
We're here to help build better communities, enriching the lives of those who live there by supporting our customers to build, repair, and maintain the many places, buildings, and infrastructure that touch all of our lives every day.
Assistant Branch Managers at the Travis Perkins Group develop strong relationships with both customers and suppliers in order to build profitable business growth. This involves nurturing great relationships, understanding customer needs in order to offer expert advice, and where required recommending suitable alternatives, to meet their needs and boost sales.
Skill 3: Problem-solving
As an Assistant Branch Manager, you'll support the branch management team to make informed decisions which means combining collaboration with critical thinking. This means being a good problem solver, in challenging situations, remaining calm under pressure, having a proactive mindset, and quickly identifying the root of a problem as well as how to solve it.
Delivering through your team members and leveraging their knowledge and skills can help you to navigate challenges with ease and help you to find the best solution. One of our core values is that we are better together and this means working together to share knowledge, learn and grow - making the most of who we are and what we do.
Skill 4: Adaptability
No two days are the same in Branch life. You'll come across a lot of different people and situations and adaptable leaders can tackle new challenges and think on their feet.
Assistant Branch Managers thrive in a dynamic and fast-paced environment. To succeed in this role, you'll possess an entrepreneurial spirit, be highly adaptable, resilient and tenacious with high levels of energy and drive
Adaptability is a transferable life-long skill that can be used interchangeably between different jobs, careers, and industries and is especially important in leadership roles.
Lead and motivate our teams at the Travis Perkins Group
Branch life is exciting, rewarding, and fulfilling. Not only that, the Travis Perkins Group is a great destination if you are looking to take your management career to the next level. If development is important for you, whether you are operationally focused or sales-driven then your future career path could lead you to roles such as a Branch Manager, Regional Operations Manager, Regional Sales Manager or a Regional Director.
Do you have the skills it takes to be a great Assistant Branch Manager? Apply to our Branch Management jobs today.
List #1
Roles you may be interested in