What is it like to be a Kitchen Design Apprentice at Benchmarx?
Benchmarx is a young, fresh-thinking company that's already a major supplier to the UK's building and construction market. As a member of the Travis Perkins group, we are also part of a group of leading companies in the builders' merchant and home improvement markets in the UK.
Abigail is an Apprentice Kitchen Designer at our Christchurch branch of Benchmarx and has been in her role for 6 months, using her passion for design and creativity to explore a new career. Our designers bring visions to life, talking customers through the entire process and ensuring they have confidence in their purchasing decisions. We asked Abigail why she decided to join our Group, and what it's like to be a Kitchen Design Apprentice within our Group.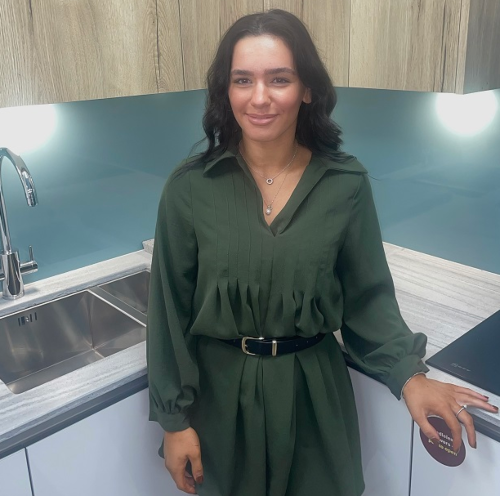 What made you decide to apply for your current role?
After leaving school and attending college, Abigail went onto study criminology, sociology, and psychology in which she thought she was set on doing in her future. Although she was interested in these subjects and learned a lot, she had a passion for design and creativity that she knew she would much prefer to pursue and explore a career in.
'Taking much love and interest into interior design at home and being hands on with building and organising home furniture, I started searching for a designer role. I was lucky enough to have found this apprenticeship with Benchmarx as it provided me with a pathway to become a designer.'
What do you enjoy most about being a kitchen designer?
Abigail says that being a Kitchen Designer for Benchmarx comes with lots of positives on a day-to-day basis.
'My favourite aspect of this job role is designing. I love the element of surprise in which every kitchen is different. My surveys range from looking at small kitchens in flats to measuring up huge kitchen spaces. This gives me the opportunity to play around with ideas and make each kitchen design unique and special to that particular space. I love how each kitchen has a different style - no design is ever the same.
Another aspect of this role that Abigail loves is the customer service/sales side.
'As a friendly and approachable individual, I love meeting new people. Getting to know my customers on a personal level is something that is important to me, not only to ensure I get the sale, but it also helps me get to know them and what design they will like, and it also makes contact much easier in the future.'
This is great to hear, as providing quality service for our customers is one of our key values.
What does your Apprenticeship involve?
Abigail's role as a Kitchen Design Apprentice includes many different tasks.
'I not only go about my day-to-day tasks; completing surveys/measures, designing, and drawing up plans, speaking to customers and selling, but on top of this, I am learning, educating myself and working with others to ensure I know specifically what my job role consists of and in particular what it means working for this company. I work with my team, shadowing different people and taking notes of new information. A big part also includes connecting with the other apprentices on Google Meet sessions every so often. This is useful as it allows me to hear views/opinions of those who are in the same position as me.'
Finally, an Apprenticeship involves having to gather evidence and using day-to-day tasks to build a portfolio. Looking at surveys/designs that Abigail does, it is valuable for her to take notes and pictures to use as a log of everything she is achieving to become qualified next year.
What was it like to join with no industry experience?
Before Abigail joined Benchmarx, she had no experience in the construction industry or with a builder's merchants.
'I was very nervous about starting as I wasn't sure what the atmosphere would be like. I was slightly concerned about the fact that people would be relying on me to create a design for them, that not only looks good but fits in with all building regs and fits the measurements etc. This was something that I was new to, there was a lot for me to learn.'
Within the Travis Perkins Group, we know there is no 'one size fits all' approach to personal development, so we give our people the opportunity to learn and progress at their own pace.
What is it like working within the Travis Perkins Group?
'Since starting my Apprenticeship, I have learnt a lot about both Benchmarx and the Group. It's been very interesting learning about the relationship and how we work together. I am extremely happy that I am with TP/Benchmarx to help start my career off as I have a huge support network and enjoy how things work. I am also grateful for the support from my team and those around me. My team have been very patient with me whilst joining and have had my back since day 1.'
We have strong family values, so this is just what we like to hear – teamwork makes the dream work!
Pursue a kitchen design career at Benchmarx
Apprenticeships aren't just for entry level roles or for trade-based careers, absolutely anyone can undertake one. As a group, we are gradually rolling out apprenticeships up to senior leadership level, giving a Level 7 Apprenticeship qualification that is the equivalent of a master's degree.
If you're looking to kickstart a career in kitchen design, we may have an opportunity for you. Browse our available kitchen designer jobs today.
List #1
Roles you may be interested in