Considering a career change? Read Kim's experience of joining the Travis Perkins Group
Kim is a Customer Sales Assistant. She's been working with us for a year and a half now, and when we spoke to her, one thing that stood out was how much she has developed - professionally and personally. Read on to hear about her experience joining the Group and why she thinks Travis Perkins is a great place to develop your career.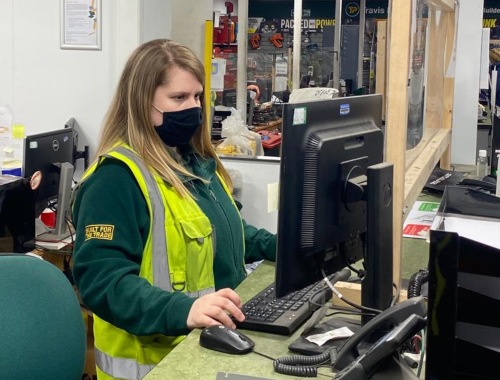 Straight out from school, Kim started as a Barista and remained with the same retail company for 15 years, moving through various departments. She was waking up at 5am every morning to get to the store, so she wanted a lifestyle change. Kim also explains that she was looking for a change in career too. She applied for a job at Travis Perkins, and it wasn't long before she was called in for an interview.
"My dad's a builder. He loves me working here."
Kim has had her fair share of exposure to the building trade. She used to come into builders' merchants when she was growing up, and even from a young age, she noticed it was male-oriented. She found that she'd walk in, and people wouldn't take notice of her being there. That wasn't that case when she joined Travis Perkins though as everyone at the branch made her feel welcome, particularly her Branch Manager, Gaby.
"My confidence when I first joined was terrible."
When we asked Kim what skills she has developed during her time with Travis Perkins, she told us about her boost in confidence. In her earlier days, Kim was very shy. But since joining the Group, she's had the chance to train new people and has learnt to step outside her comfort zone.
"It's a more friendly customer relationship than you get in a shop."
Kim shares that the atmosphere in her branch is great. Lots of the customers know her by name. This is one of the things Kim loves the most about her role. In her previous job, she didn't get the chance to speak to customers. But at Travis Perkins, Kim is encouraged to find the time to speak with customers and build relationships with them. In fact, 'working for our customers' is one of our cornerstones .
"I would say it's the best builders' merchants to work for"
We might be biased here, but we have to agree with Kim. For Kim personally, the people she works with and the support she's received over the last year are just two reasons she's stayed with the Group. Kim also shares that every day is different, everyone supports each other and the benefits are really good - all great reasons to continue working at Travis Perkins.
"Travis Perkins is adapting"
Kim is referencing our new family-friendly policies here. As she explains, the changes being made will ensure that all colleagues feel valued no matter what stage they're at in life. The enhanced maternity leave policy is one of the reasons why it's a great place for women to bring their career.
Could a career with Travis Perkins be right for you?
When we caught up with Kim, we learnt that she had her reservations before joining the Group. Taking that next career step can seem like a huge leap, but Kim knew within days that it had been the right move for her. It's great to hear colleagues accounts of how much they've developed during their time at Travis Perkins and to learn why they love doing what they do. Browse our current part-time roles and join our friendly and hardworking family.
List #1
Roles you may be interested in
We are sorry but your search has returned no results.
Please try some of the links below to find what you are looking for:


View all jobs