Jobs that give you the work/life balance you're looking for
At Travis Perkins, it is our vision to be an industry-leading and truly inclusive employer. We value our employees, and this means we do our best to offer working arrangements that suit their needs. Whether this might be part-time working, or helping you kick off a career change, we may have an opportunity for you in one of our branch-based roles. Previous experience or knowledge of building materials, builders' merchants or the construction industry isn't needed to work with us; we'll support you every step of the way until you feel confident.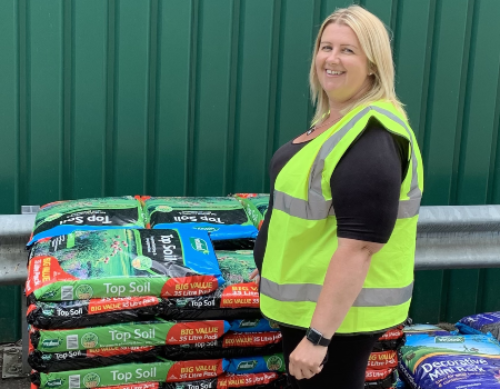 Why part-time working arrangements suit Jaime and her family
Jaime works part-time as a Customer Sales Expert
at Travis Perkins, but during her three years with us, she's gained experience in a variety of roles which have all provided her with the flexibility she needs to balance both her job and taking care of her children.
For Jaime, it suits her to start her working day earlier, so that she can leave in time to pick up her two children from school, therefore her hours are 07:30 to 13:30, Monday to Friday. She describes herself as 'green and gold, through and through' because she appreciates the continuous support she's received from the business.
Jaime, whilst working part-time, has also taken advantage of the award-winning Apprenticeship programmes we offer within our Group. She told us that the Level 2 Customer Services Apprenticeship improved her product knowledge, helped her to communicate better with customers, taught her to be more assertive, and gave her multi-tasking skills a boost – this is fantastic to hear!
Charlotte loves working part-time alongside studying
Balancing a job with full-time studies is no easy feat but working part-time time within the Travis Perkins Group has made it much sweeter for Charlotte. She's been working as a Counter Sales Assistant for us for three years, with no previous trades experience, and outside of Travis Perkins she's training to become a qualified counsellor. As part of her diploma, she must do placements, but our management team in branch have always been happy to help her balance this with her work.
Charlotte told us that given the support she's received from us and knowing that a full eight-hour day of counselling would be draining, she plans to stay with the Group even when her studies are finished.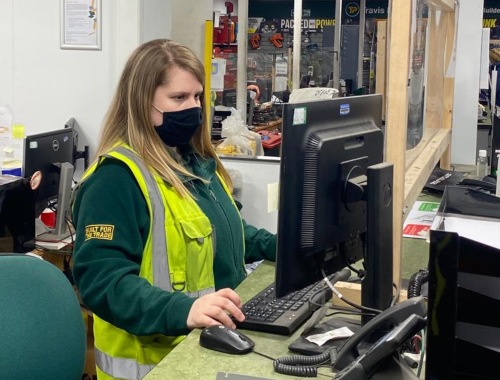 Why a career change was right for Kim
Previously, Kim worked as a Barista which required waking up at 05:00 every day, so she knew she wanted a lifestyle change when applying for a new job. Kim now works as a Customer Sales Assistant at Travis Perkins and has really grown personally and professionally in the two years she's been with us.
At the start, Kim was quite shy, but after learning the ropes and becoming more confident, she's even had the chance to train new people and step outside her comfort zone. She told us that the people she works with and the support she's received over the last year are just two reasons she's stayed with the Group, and that our company adaptions including family friendly policies make colleagues feel valued at every stage of their lives.
Find your next part-time role at Travis Perkins
Are you looking for a part-time job? Whether you're from out of sector, or you're looking for something to work around family or caring responsibilities, education and training, another job, or you just want the extra time to pursue something else, we have a range of part time opportunities that may suit you.
Browse our part-time jobs today or sign up to our job alerts so you don't miss another opportunity!

List #1
Roles you may be interested in