Why Hannah recommends a Fast Track Management Apprenticeship at BSS
Hannah joined us in early 2021 on a Fast-Track Management Apprentice scheme at our BSS branch in Croydon, and she was recently promoted to Warehouse Supervisor. We had a chat with Hannah to find out more about how BSS has supported her personal development and why joining the Travis Perkins Group was a great career move.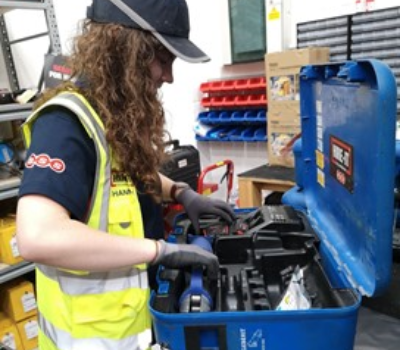 "I can achieve career development"
After Hannah reached supervisor level with her previous employer, she was ready for a job role that would allow her to progress to management. When Hannah saw the opportunity with BSS advertised, the word 'management' really stood out to her. Hannah explains that she previously completed an apprenticeship and knew that this would help her achieve her career development goal.
"Each day is different"
As part of the Fast Track Management Apprenticeship, our colleagues spend some time rotating around different branches to gain experience and wider knowledge of the business. Hannah told us that when she joined the Crawley branch she found that her role varied a lot from one day to the next, which she enjoyed. Typically, she would check the branch inbox for any sales-related emails, follow up on any actions, take inbound calls from customers, help out with any customer queries, pick products from the warehouse to fulfil customer orders, and make outbound sales calls.
"I enjoy learning"
For Hannah, the chance to learn something new is what she loved most about the Fast-Track Management Apprenticeship. She enjoyed learning about how our products work and was intrigued by the level of competition within the plumbing and heating industry.
"I'm more confident"
Hannah finds that having completed the Apprenticeship, she is now able to talk confidently about our products and how they benefit our customers. She feels comfortable answering the phone and asking customers the right questions so that she can deliver excellent service.
"Give it a go...
you'll always be welcome at BSS

"

Hannah's advice for anybody looking at apprenticeships at BSS is to give it a go. Prior to her time with the Travis Perkins Group, Hannah held various roles in other industries, including as a food and beverage supervisor. Hannah explains that she wasn't sure what to expect when joining from out of sector, but her manager was very supportive by allowing her to meet her team and tour the branch before her start date. Hannah likes the open plan environment and friendly atmosphere of the branch, she says she has learned about different job roles, including sales, receiving stock, spending time in the hire department, stock control and inventory, and still continues to learn new things everyday. With so many different routes for a career if you have some transferable skills - you'll always be welcome at BSS Hannah says.
Explore Fast Track Management Apprenticeship opportunities at BSS
Is 2022 your year to start an Apprenticeship? With opportunities to learn, grow and develop into a future business leader, join BSS, and start your career with our one to two-year Fast Track Management Programme. Take a look at our available BSS Fast Track Management Scheme opportunities today and accelerate your career.
List #1
Roles you may be interested in