From Horse Groomer to Apprenticeship Coordinator: Emily's Journey at Travis Perkins
We caught up with Emily Griggs, one of our Apprenticeship Coordinators, who has been with the Group since February 2021.
At the Travis Perkins Group, we are committed to supporting our colleagues to develop their careers, giving them not just the necessary skills and knowledge training but also the autonomy they need to figure out how to do things their way.
We wanted to shine a spotlight on Emily's journey to show how she has grown and developed, and how an Apprenticeship awarded her with new and exciting opportunities within the Group.
Before joining us, what did you do?
"Whilst studying Level 3 Horse Management at college I worked part time as a Barista at Costa Coffee. Once I completed my course the natural next step was to become a Horse Groomer, which I did on a self employed basis for 15 months.
Towards the end of this time I relocated, and building my business in a new area where I didn't have many connections proved to be a challenge. The pandemic also made it very difficult to visit my clients due to the restrictions. I therefore decided to look for a new opportunity with the hope of returning to horse grooming at some point in the future."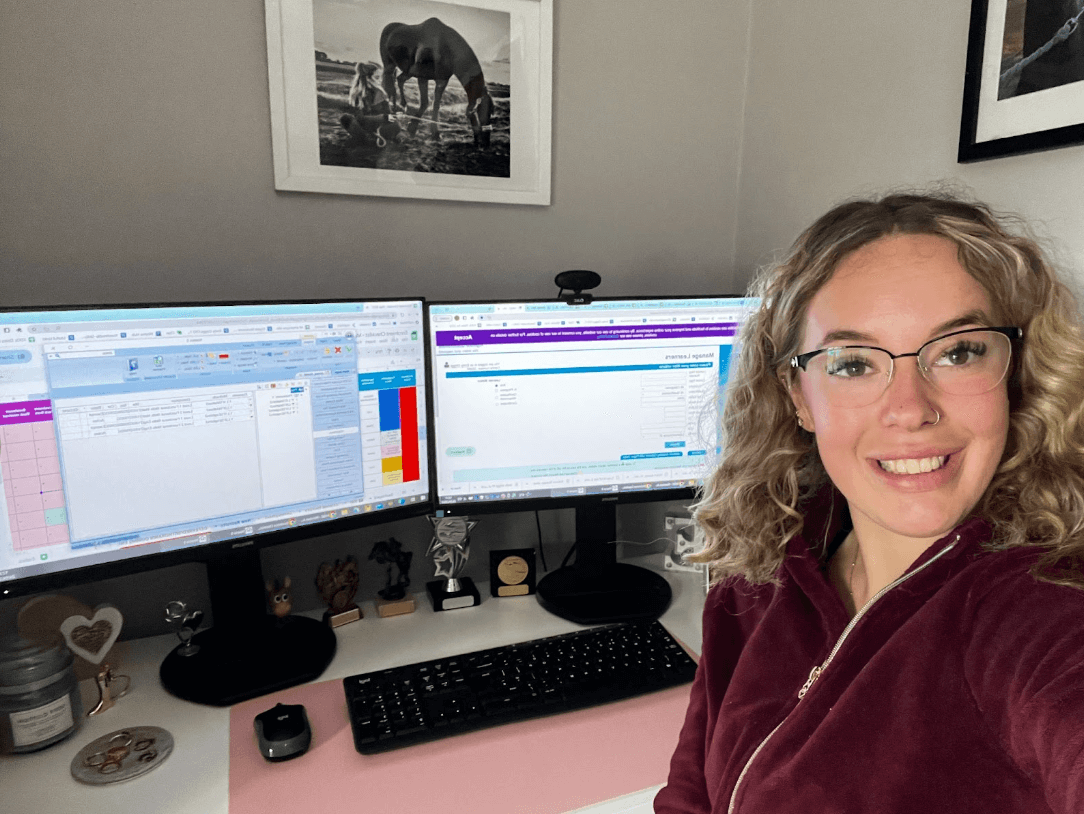 What attracted you to applying to Travis Perkins?
"I didn't know a great deal about the building supply or construction industry but always saw the Travis Perkins lorries around Northampton as well as their big distribution centre. I wanted to know more about the business and the processes behind a large organisation so I went to their careers site to find out more and searched for suitable roles in my area."
Our head office is based in Northampton, but we have 1400+ branches around the UK with plenty of variety in opportunities - whether you are looking to develop your customer service skills in our branches or head up strategy in our head office.
"I joined Keyline as a Branch Apprentice and enrolled onto a 12-month Level 2 Trade Supplier Apprenticeship for which I was awarded a Distinction."
This particular apprenticeship is designed for colleagues who are either new to our Keyline business or to the wider industry. Apprentices spend 80% of their working week 'doing the job' and the rest of the time either work shadowing, online learning, attending regional workshops and individual coaching sessions or on assignment/project work.
"It taught me about the products we sell and how our customers use them, helped me understand how a branch operates, and gave me the chance to experience working in each department. I gained my forklift licence, and the importance of safety procedures whilst working in the Yard. I learnt how to manage goods coming in from our suppliers, arrange deliveries and plan driver routes with the Warehouse and Transport team. I supported PI counts and developed my organisation skills with the Stock team and learnt how to meet customer needs and build relationships with the Counter and Sales teams."
What made you decide to apply for your current role?
"I wanted to further develop my knowledge and skills so when one of my peers mentioned that our Apprenticeship team were recruiting for an Apprenticeship Coordinator with the opportunity to complete a Level 3 Business Administration Apprenticeship, I leapt at the chance.
This Apprenticeship has been great in educating me on business strategies and how to use them in my role. I've also improved my communication skills which has meant I am better able to understand the people around me and collaborate more effectively"
Why and what has kept you working with the Group?
"I have been able to develop myself both professionally and personally. I joined our Youth Network because I was the youngest and only female in the branch when I first started and wanted to help spread the word about how many opportunities there are for the younger generation. I am able to get my voice heard and, as a member of the Youth Board, help young people understand how valued we are in the business."
We want everyone to be at their best and it's our ambition that everyone within our Group feels confident to be their authentic selves and that they belong. You be you, it makes us, us, as we say. Our five colleague networks are driving real, positive change and an inclusive, welcoming culture for al
"I also love learning new things and getting a qualification out of it is a bonus. I've experienced different opportunities and can see that there is a path for everyone no matter what your interests. At the Travis Perkins Group, you are always able to move onto the next level and keep developing! "
Travis Perkins is a great career destination with over 40 apprenticeship programmes to choose from, you'll have your pick from a range of different workplace and training opportunities.
Have you got any advice for someone thinking of joining the Group?
"Jump to it! I started off with no experience in the building/construction industry - all I had ever known was working with horses. Making the career change and joining Keyline is the best thing that has happened in my career journey. I have been able to develop more knowledge in the past 2 years than I ever had before and have also learnt a lot about myself on the way.
If you want an opportunity to get your voice heard and better the business with your ideas then this is the Group to join for that. There are Apprenticeship levels starting from 2 up to 7 and no one is 'too old' or 'too young' to study the Apprenticeships. These will open up opportunities for progression and help you with your daily job.
If you're thinking of changing careers or just starting yours up then do not hold back and jump on the opportunities you are given! You do not need any previous experience or qualifications to join the business, just a willingness to work and express your ideas."
Our award-winning Apprenticeship programmes are designed to set colleagues up for a successful career. Ready to build a better future? Learn more about our amazing Apprenticeships.
List #1
Roles you may be interested in
We are sorry but your search has returned no results.
Please try some of the links below to find what you are looking for:


View all jobs