Clear Progression Paths with the Travis Perkins Group: Hayley's Story
Here at the Travis Perkins Group, we aspire to be the career destination of choice. We understand the importance of learning and development to the success of both our colleagues and business. It is our ambition to create conditions for a learning culture where regular great development conversations take place and there are meaningful opportunities to progress.
We spoke to Hayley Rogers, Marketing Promotions Manager in the CCF Commercial Team, about her career journey with us, which is coming up to 8 years now.
What first attracted you to the Group?
"Whilst the construction industry wasn't something I imagined going into when I left school, someone from the business praised the culture and support of colleagues in the Group. This was a real selling point and what ultimately enticed me to join.
My career started with Intercounty Truck and Van (Mercedes-Benz) where I worked as a Trainee Marketing Assistant for 14 months, after which I joined the Chartered Institute of Logistics and Transport as a Marketing Coordinator. I was looking for the next step in my career when I saw the opportunity with Travis Perkins plc."
Career progression
There are plenty of opportunities to grow and develop within the Travis Perkins Group.
"Over the past 7 years, I've had three promotions and have grown from strength to strength.
I joined the Group in 2015 as an Account Handler within our Design, Print & Distribution Department, and after two years naturally progressed into the role of an Account Manager.
In 2019, I was promoted to Assistant Marketing Manager with CCF, one of the Group's 5 leading businesses, where my team won an award for 'Best Internal Communication' at the Marketing Construction Awards for our 2020 Business Conference.
In 2022, I progressed into my current role as Marketing Promotions Manager at CCF. This year was special as my team won the same award for a second time and also achieved a distinction in my apprenticeship."
We are always on the lookout for individuals with the potential to be future leaders within our business. If you don't tick 100% of our boxes, but have the passion and drive to build a successful career, we want to hear from you!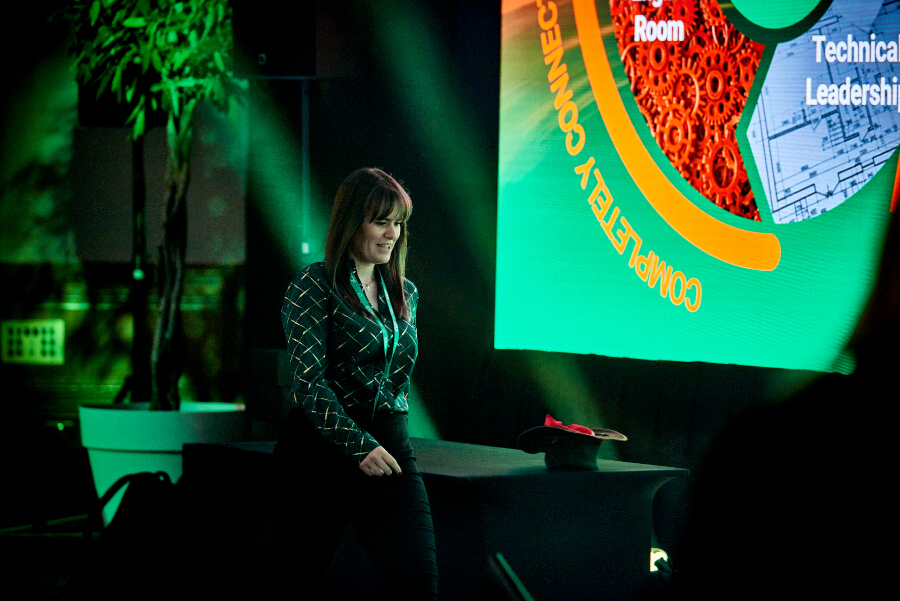 Development opportunities
"I completed the Level 5 Apprenticeship Diploma in Management which involved key management styles, how to work with different stakeholders and key business elements such as creating a business plan, managing a budget and more. I'm looking into the options to start a Level 6 Apprenticeship soon."
We are committed to supporting our colleagues to develop their careers, giving them not just the necessary skills and knowledge training but also the autonomy they need to figure out how to do things their way. We offer 40+ Apprenticeship programmes so there's bound to be something for you.
What do you love about your role?
"I do something different every day! My key focus is to communicate with our colleagues to ensure they are aware of what is happening within the business, the benefits available to them as well as the successes of our colleagues and teams.
Whilst my day-to-day changes, my role involves budgets, building communication plans, writing content, understanding and communicating the business's strategic goals, planning business conferences, working alongside several senior stakeholders, showcasing our culture, and building relationships.
Two things really jump out to me in this role. One is seeing communication campaigns land really well and the second is interacting with some great people across the business."
We want everyone to be at their best and it's our ambition that everyone within our Group feels confident to be their authentic selves and that they belong. Just like Hayley, you'll have the opportunity to work with diverse teams in an inclusive environment.
What keeps you here?
"One thing that has kept me in the business for so many years is definitely the culture. CCF has such a family feel which makes the day-to-day so enjoyable. Alongside a role that really suits my strengths, and a Manager and business who understand my personal situation and supports me without question."
Our rewards and benefits are designed to support, engage and motivate colleagues, and meet their financial, emotional and physical wellbeing needs. And our values, developed by our colleagues for our colleagues, are simple, clear, and authentic, reflecting who and what we are, and what we deliver.
"One of our values is 'We give our best to be our best'. This value resonates with me the most as I pour my all into the business to ensure that we win in our market and also so that our colleagues feel that they have open lines of communication between my department and their teams."
Learn more about what it is like to work at Travis Perkins.
Advance your career
With the right training and support, we can help you to advance your career, whether you are in an entry-level, midrange or senior position. Development for us is also about providing life skills, including digital skills, Maths and English, so we can build a strong pipeline of talent that can help to modernise our business.
Upskill yourself and keep progressing with Travis Perkins.
List #1
Roles you may be interested in
We are sorry but your search has returned no results.
Please try some of the links below to find what you are looking for:


View all jobs