The characteristics of a good leader
The relationship between employee satisfaction and business performance is heavily influenced by leadership. But what makes a good leader?
If you think about all the leaders throughout your career, their leadership styles may have differed but there are specific characteristics that distinguish good leaders from the rest.
At Travis Perkins, we value diverse leaders who offer different perspectives and can inspire their teams so we can make a difference.
We've highlighted the characteristics that define some of the best leaders and managers in our business that guide them to have a positive impact on those they lead.
Empathy
Empathy in a leader can foster a positive and productive work environment where people feel comfortable being themselves. We want everyone to be at their best and it's our ambition that everyone within our Group feels confident to be their authentic selves and that they belong - you be you, it makes us, us.
Good leaders are able to put themselves in the shoes of others, understand different perspectives, and ensure that their team feels seen and heard. Empathy, therefore, enables our leaders to build trust, better communicate and empower a team.
Adaptability
Adaptability is easily adjusting to different situations and in the workplace, it can help you to overcome challenges as well as stay up to date with the latest developments in your industry, and better serve customers and your team.
Both retail and the construction and building industries are ever-evolving so a leader that can adapt is highly valuable. We are always on the lookout for proactive and ambitious leaders who are open to new ideas and can foster an environment of seeking continuous improvement.
Collaboration
Communication is at the heart of good leadership. It is a vital skill to be able to communicate your ideas effectively, create clear expectations around projects and tasks, and provide feedback to your team members.
At Travis Perkins, we give our best to be our best. This means pushing ourselves to be bold, go the extra mile and deliver, and always be proud to own our actions. Collaboration is a key part of our ethos, and we tackle any challenge presented to us together as a team.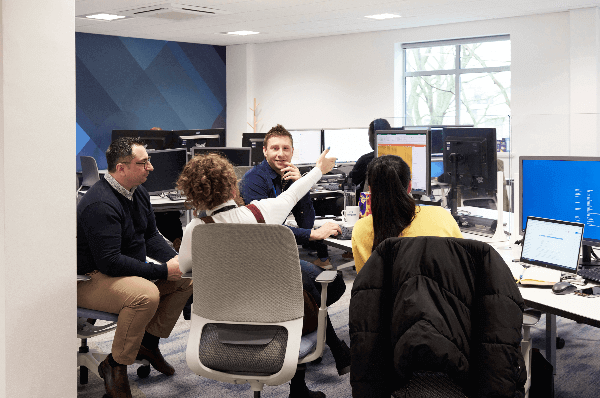 Accountability
As a leader, you are a role model for your team. Taking accountability for your actions and decisions builds trust, shows you operate with integrity, and allows for transparency.
When you demonstrate you are accountable for your own actions, your team are more likely to do the same. They will feel they are working in a safe and healthy environment where they feel comfortable collaborating and communicating with their leaders.
Inspire and lead our teams at Travis Perkins
Are you ready to inspire, engage and enable people, and provide fresh thinking to define and develop our strategy? Becoming a good leader is a journey and we'll be here to guide you from an entry-level position all the way to leadership.
Rome wasn't built in a day and neither are good leaders. Everybody starts somewhere and managing people is the first step. At the Travis Perkins Group, the first step into management is a supervisory role, and some examples of these roles include: Branch Manager, Warehouse Operations Manager, Territory Manager, and Transport Supervisor - Travis Perkins is a perfect career destination to grow and develop your way into leadership roles.
List #1
Roles you may be interested in