Explore These 10 Head Office Career Opportunities at Travis Perkins
At Travis Perkins, we are more than just a business. We have a rich history of helping to build Britain for over 200 years and strive to enrich the lives of those around us by supporting our customers to build, repair, and maintain the many places, buildings, and infrastructure that touch all of our lives every day.
You can be part of our dynamic and diverse teams that drives our purpose and keeps our business moving. Make your next career move at the Travis Perkins Group and explore our 10 Head Office and Support Functions: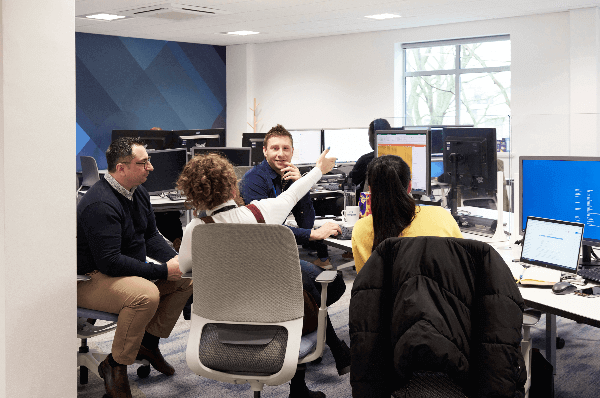 Our Commerical teams responsibly source and buy the thousands of products and materials we sell within our branch and store networks and online. Whether you are a Buying or Pricing Assistant, Data Analyst, or Category Manager, everyone on the Commerical team puts our customers first and builds long-lasting relationships with both our customers and suppliers.
Working in this team is a chance to develop further by learning about suppliers, the market and our competition, whilst continuing to build on the foundations of Commercial procedures.
Our Finance & Accounting teams provide the information that helps monitor and reach our financial targets and drive strategic decisions.
If you are interested in making an impact across our business and working directly with a range of teams from support functions, sales, operations and senior leadership teams, Finance & Accounting could be the place for you.
We are looking for Finance Graduates, Accountants, and more.
Are you passionate about driving change?
Our Corporate Governance, Sustainability, Legal and Assurance teams guide how we behave, act and respond. Our mission is to operate sustainability across all of our businesses at the Travis Perkins Group. We recognise the impact our activities have on the natural and built environment and on society.
Our Human Resources team drive our strategy by finding brilliant new talent and ensuring all colleagues are safe, supported, trained, developed, engaged, and rewarded to meet the needs of the business. From Payroll Specialist to HR advisor, our multi-disciplined people team partner with and influence our business.
One of our core values at Travis Perkins is that we care - this means looking after each other's safety and well-being, treating people with respect and encouraging everyone to be themselves, and this is exactly what our Human Resources team do.
Our Marketing & Digital teams are responsible for bringing our own brand and known brand product ranges to life in the eyes of our customers. We want to stand out from the crowd through our promotions, partnerships, advertising, PR, digital and social media campaigns and reach our customers.
Here's what Kirsten Winnett, Head of Marketing at Keyline, has to say about exploring job opportunities at Travis Perkins:
"Do it - take the plunge. Reach out to some people that work here to get their views. Come in with an open mind, a lot of enthusiasm and unique ideas. We're always looking for new energies and personalities to help maintain our positive culture."
Our Operations Support teams ensure the health and safety of our colleagues, the security of our sites, and the management of over 50,000 phone, email, webchat and social media queries a week via our dedicated customer contact centres.
Roles in this team vary from Security Operators, Health & Safety Advisors, and Call Handlers.
From finding new locations or sprucing up existing sites to maintaining our buildings so that our operations can run smoothly. Our Property & Facilities Management teams help make a positive difference in the world these communities work and shop in.
If you are reliable, enthusiastic and have a passion for maintaining a safe and secure environment, we want to hear from you.
As the technology landscape continues to evolve, so do our teams. We want to transform the way our colleagues work and customers trade by designing and developing innovative solutions in-house to bring our businesses together.
We are looking for IT project managers,Software developers, Enterprise Architects, Business Analysts and more. You'll work on large technical projects of varying complexity, whilst engaging with different parts of our Group and a large number of Senior Stakeholders.
Responsible for both elevating and deepening our well-established customer relationships, our corporate and contract sales teams work with our larger and more complex customers who serve local, regional and national markets to deliver new build and repair, maintenance, and improvement solutions across residential, commercial and infrastructure.
Roles in this team include Area Sales Representatives and Accounts Managers.
The supply chain, distribution, and fleet teams at Travis Perkins Group work together to ensure a seamless flow of products, timely deliveries, and effective management of resources. Their efforts contribute to the company's ability to meet customer demands and is how we are able to maintain a competitive edge in the market.
Jumpstart your Head Office career at Travis Perkins
We're driving to become a truly inclusive employer, where everyone in our Group feels safe, welcome and confident to be their authentic selves - you be you, it makes us, us, as we say.
If you're interested in any of our Head Office opportunities but your past experience doesn't align perfectly, we encourage you to apply anyway. You might be just the right candidate for this or other roles with us.
Discover Head Office job opportunities at Travis Perkins.
List #1
Roles you may be interested in