How do I know what career is right for me?
Choosing your career path can seem like a big decision but it doesn't have to be a scary one.
We've broken down the types of people we are looking for by the different areas within the Travis Perkins Group of businesses. Whether you're looking to lay the foundations or build your career, we have the scale and breadth of opportunities to help you grow and develop.
Find a career that you enjoy, matches your skills and personality, and is rewarding with Travis Perkins' careers. We are a career destination.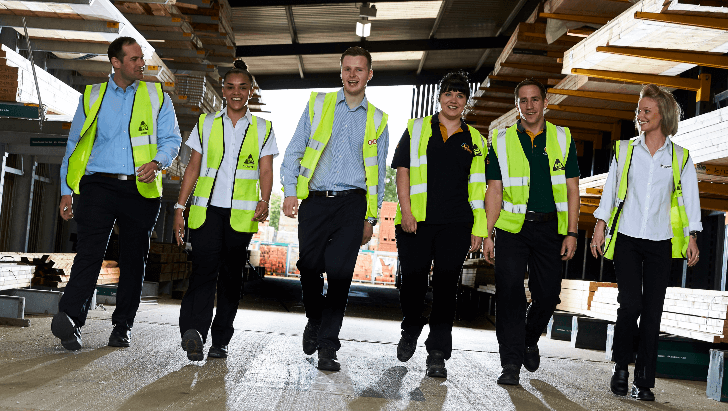 Our 1,400+ branches, stores and showrooms are the heart of our operation. Our colleagues are passionate about helping to build better communities and are the face of our business.
We're looking for people who are…
Customer-focused - you'll have the ability to engage with a wide range of customers from all walks of life, understand their needs and provide them with an excellent customer service experience.
Adaptable - no two days are the same in branch life so you'll need to be quick on your feet to work in a fast-paced environment and handle various tasks.
We've got a variety of roles including Branch Managers, Warehouse & Yard Assistants, Kitchen Designers, Retail Supervisors and more.
Our HGV Drivers are not only valued team members, but they're also skilled navigators, maneuverers, and custodians of excellent customer service.
We're looking for Drivers who are…
Responsible - you'll demonstrate safe and responsible driving practices on the road whilst delivering goods efficiently. You'll need a valid HGV Drivers License.
Punctual - you'll be timely in delivering goods and services and have the ability to stick to a schedule.
"Joining Travis Perkins was a great choice for me and can also be a great choice for you." - Dean, one of our HGV Drivers at Travis Perkins Eastbourne
Our sales and operations teams enable the Group to drive profitability and achieve sustained growth. This area is split into regional sales and operations, and corporate and contract sales. So you'll have your pick of roles from Area Sales Representatives and National Sales Manager to Regional Operations Managers and Directors
We're looking for people who are…
Great communicators - you'll build and maintain strong relationships with colleagues, customers and suppliers.
Negotiators - you'll be negotiating pricing, contracts, and terms with customers and suppliers.
Our head office and support function teams are critical for ensuring our businesses and colleagues are equipped to fulfil our purpose and ambition. Within this area, pur teams cover Commercial, Finance & Accounting, Governance, Sustainability, Legal & Assurance, Human Resources, Marketing & Digital, Operations Support, Property & Facilities Management, and Technology. So there is something for everyone in our head office.
We're looking for people who are…
Strategic - you'll understand the Group's objectives and be able to contribute to the decision-making that shapes our business.
Innovators - we're always looking for new ways to improve the systems and processes that get the products and materials we sell in front of our customers (both internal and external)
Our supply chain and distribution teams make sure the right product gets to the right place, at the right time because we value not only meeting our customer's needs but exceeding their expectations.
We're looking for people who are…
Team players - you'll be ready and willing to support your team
Analytical - you'll find ways to operate smarter, safer and as waste free as possible.
Here at the Travis Perkins Group, we actively manage our sustainability by striving towards net-zero carbon, responsibly sourcing, waste management, and more.
Find the right career for you at Travis Perkins
While specific roles may require additional skills and experience, we are looking for people who are enthusiastic, passionate, and demonstrate our three core values - we care, we give our best to be our best, and we're better together.
We hope you are walking away with a bit more clarity on the types of career paths we offer at Travis Perkins and the skills you'll need to succeed in those departments.
Explore Travis Perkins' careers now.
List #1
Roles you may be interested in
We are sorry but your search has returned no results.
Please try some of the links below to find what you are looking for:


View all jobs