Travis Perkins Apprenticeships: Level 3 Data Literacy Multiverse
At Travis Perkins plc, we are committed to supporting our colleagues to develop their careers, giving them not just the necessary skills and knowledge training but also the autonomy they need to figure out how to do things their way.
Our award-winning Apprenticeship programmes provided by LEAP Apprenticeships & Early Careers do just that. Our Level 3 Apprenticeship programmes, specifically, are designed to provide you with the skills, knowledge, and behaviours to excel within your role and set you up for a successful career.
Learn more about our Level 3 Data Literacy Apprenticeship programme, delivered by our Apprenticeship partner, Multiverse: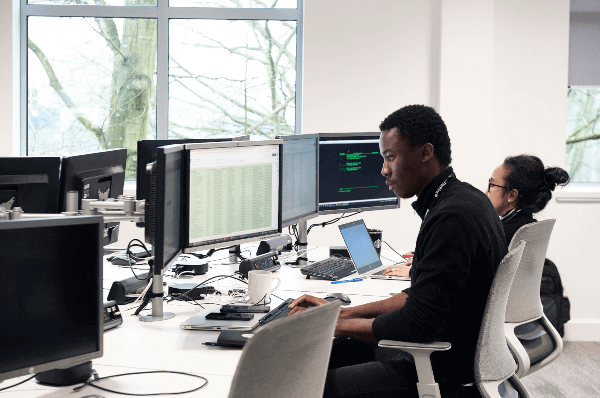 Why should I consider a career in Data Literacy?
Organisations are investing trillions to become more data-driven and we've seen unprecedented growth in both data and tech. There has never been a better time to educate yourself on interpreting and analysing data and turning that data into insights. This gives you the ability to inform business decisions based on data insights.
These skills and knowledge are highly valued across several industries including the building and distribution industry. At Travis Perkins, we're here to help build better communities and enrich the lives of those who live there by supporting our customers and a career in Data Literacy will allow you to shape the future and create a positive impact.
This Apprenticeship is for anyone who spends 1 hour or more per day with data and feels they would benefit from building their confidence in using and understanding data. You could be early on in your career or already managing a team and looking for ways to improve your processes.
What to expect in the Data Literacy Apprenticeship?
The programme covers the core technical skills required to transform data into insights, as well as softer skills like building narratives and presenting findings.
Throughout the 13-month programme, you will gain confidence working with data, learn how to automate manual processes, work with data to make evidence-based decisions & improve processes. Learn how to visualise data, create dashboards and tell compelling stories with data, ultimately increasing efficiency and profitability
Another key skill you'll develop is a continuous learning mindset as technology is ever-evolving, so you must keep up to date with the latest industry trends and insights.
What support will I receive on the Apprenticeship?
Jumping into a new environment with new people can seem daunting at first but we understand and accommodate that at Travis Perkins plc. You will have a combination of online learning, work shadowing, and natural on-the-job learning so you can learn the theory behind what you are doing, see how data professionals approach tasks, and put your learning into practice.
We strive to support, engage, and motivate our colleagues so you will have people looking out for you and helping you to grow professionally and personally. This includes 1-2-1 coaching by Multiverse data experts so all your questions will be answered.
Hear from people who have completed the programme
Take Gavin Mercel as an example, a Junior Finance Analyst in our BSS business, who completed the Level 3 Data Literacy Apprenticeship.
Teams from around BSS utilise reports for measuring KPIs, time series models, and trend analysis. These reports are strewn across Google Drive making it difficult to find them and as a result teams from various departments have stated they've been waiting for months in some cases for new dashboards to be created.
Gavin has put his skills to use by helping to create a centralized dashboard a "Reporting Hub" which allows anyone across BSS to search for a specific dashboard. When the dashboard doesn't exist, this same hub provides an easy way for anyone to request a new dashboard be created.
He did this by cleaning all the data to enable this migration which impacts all systems in the business: stock, finance, and sales.
This is just one example of how our colleagues are using the skills and knowledge gained from their Apprenticeships to create improvements that impact the business and streamline processes and their roles.
How can I progress and develop after my Apprenticeship?
If you are ready to embrace the future and develop your knowledge in this area, there are definitely plenty of progression opportunities available such as transitioning into more advanced roles.
You might want to consider Data Support Analyst roles, Junior Data Analyst roles, Junior Data Information Analyst roles, or Data Technician roles.
Learn the skills of the future
Our industry has some enormous challenges to tackle over the next few years. We see Apprentices as a vital part of this change process, coming up with innovative new ideas that will help us to solve industry-wide challenges. Joining us will give you real opportunities to positively impact our business and industry, helping us build better communities and enrich lives.
Explore Travis Perkins plc Apprenticeship programmes.
List #1
Roles you may be interested in