How Benchmarx nurtures talent through development: Jade's Kitchen Designer Apprenticeship Journey
Meet Jade, one of our shining stars, who since April 2021 has dedicated herself as a full-time Kitchen Design Apprentice at Benchmarx Leamington Spa.
Benchmarx stands as a specialist in kitchens and joinery, proudly affiliated with the esteemed Travis Perkins Group, a leader in the UK's builders' merchant and home improvement markets.
Jade's journey began after leaving a role at a competitor to explore a different career path. Yet, her passion for design rekindled, leading her back to her true calling. Now, her aspiration is to attain qualification as a proficient kitchen designer upon successful completion of her Apprenticeship next year*.
Jade generously shares her invaluable experiences as an Apprentice within the Travis Perkins Group: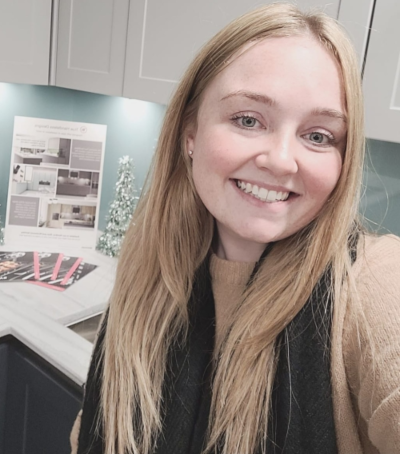 What made you decide to apply for your current role?
'I gained previous experience with another company for 4 years from the age of 17 in various roles, such as customer service advisor, team leader and kitchen designer. I was given the opportunity to become a kitchen design apprentice at the Leamington Spa Benchmarx branch and to start my career all over again with the view to learning and earning on the job and to gain a qualification in what I am passionate about and dedicated to.'
What made you decide to apply for your current role?
"I had four years of prior experience with a different company starting at age 17, holding various roles such as customer service advisor, team leader, and kitchen designer.
The chance to embark on a fresh career journey presented itself when I was offered the role of a kitchen design apprentice at the Benchmarx branch in Leamington Spa. This opportunity allowed me to combine learning and earning on the job, whilst gaining a qualification in a field that I am very passionate about."
One of the greatest benefits of an Apprenticeship is the opportunity to earn whilst learning. Just like university, but without the debt, Apprenticeships offer similar levels of education, as well as significant practical work experience, with the added benefit of a salary.
What do you most enjoy about this role?
"I have a genuine enthusiasm for starting each workday, collaborating with a friendly and supportive team. What truly captivates me in this position is the art of kitchen design.
Engaging with both traders and end-users to understand the intricacies of each project, big or small, is also something I relish. It's incredibly fulfilling to receive images from customers, showcasing the kitchens I've designed, and that sense of accomplishment is truly special."
Jade is a great example of the colleagues we are looking to recruit at the Travis Perkins Group - people who are passionate about their careers and bring their best to work every day. In fact, this is one of our core values, 'we give our best to be the best'.
It's great to hear that Jade has so much passion for her role! Here's some of her recent work: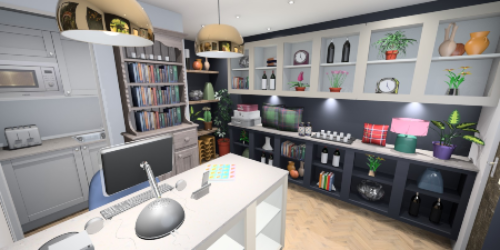 What does your apprenticeship involve?
"I am currently learning and developing on a Level 3 Fitted Furniture Design Apprenticeship.
The apprenticeship scheme covers all aspects of designing, selling and a lot of personal targets in the form of action plans and the Individual Learning Planner provided to us by our apprenticeship coaches."
Our Level 3 programmes are designed to provide you with the skills, knowledge and behaviours to be great within your role and career.
What motivated you to work at Benchmarx?
"The drive and passion I have to complete the Apprenticeship programme, earn a qualification, and take advantage of the progression opportunities within the Travis Perkins Group are massive motivating factors.
Also, the team here at Leamington is exceptional. Ellie, one of the kitchen designers (KD), has been immensely supportive. She is deeply invested in ensuring I make the most out of my apprenticeship.
A large proportion of the apprenticeship programme is coursework however Ellie is guiding me and providing me with work each week so I can gain experience and knowledge on the job such as design specs, quotations, scenarios and how I would deal with them.
We also touch base a lot on where I would like to be after the apprenticeship and how I am going to get there which is invaluable!"
Within every part of the Travis Perkins Group, we want to help colleagues with their personal career development, so we give our people opportunities to learn and progress at their own pace with a great amount of support from your managers and colleagues.
Have you got any advice for someone thinking of joining Benchmarx/the Group?
"Ask questions and jot everything down, communicate with Travis Perkins as much as possible with the aim to increase sales across the business, introduce yourself to every trader that comes through the door to gain a bigger customer base, and stay safe by wearing a Hi-Vis!"
Become a qualified kitchen designer at Benchmar
Are you ready to take your kitchen design career to the next level, just like Jade?
We may have an opportunity for you.
Browse our available kitchen sales designer roles today, or find out more about what it's like to be a Kitchen Design Apprentice at Benchmarx. We build dream kitchens, and dream careers.
*Jade has now left the business and we wish her all the best in her future career.
List #1
Roles you may be interested in