What is a secondment, and why is it valuable for your career?
The start of a new year is the best time to make some career resolutions, but if you didn't do so in January don't worry because it's never too late! Of course, we've all heard of the traditional new year's resolutions – eat better, work out more often, read more books – but career resolutions also include things like gaining new skills and assessing your progress at work.

For some of us, that might include a secondment, which can be a valuable opportunity to learn new skills and advance your career.

But what is a secondment, and how can it be useful? Read ahead to find out more and give your career the boost it needs.
What is a secondment?
A secondment is a temporary work placement that allows you to experience a different area, location, or department than where you usually work. In some cases, a secondment is external – an employee might go to a completely different company for training or experience. However, in most cases, secondments are internal, meaning you'd temporarily work in another department or another location.
For instance, a distribution team member might be seconded to work in a branch to learn more about and interact with customers. Similarly, someone in an office role might be seconded to work in a distribution centre to get hands-on experience and better understand the supply chain. The purpose of a secondment is to stretch your current skillset and springboard you into a different role, with the opportunity to do something new.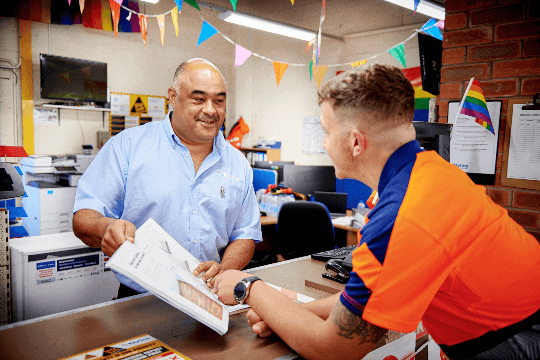 How does a secondment work?
Secondment programs can benefit your career when managed successfully, offering you new perspectives and diverse training opportunities. While working in a different setting, you'll pick up relevant experience that can be applied to your regular role. In addition, you're likely to meet new people and benefit from networking opportunities.
Sheila, a Travis Perkins employee, provides a great example of how a secondment works and how it can benefit your career. Sheila has been with Travis Perkins for more than 15 years and was recently seconded into her role as a Shift Manager. This secondment is providing her with valuable experience that she can take into her next role, making her well-equipped to apply for management roles in future.
As you can see in the case of Sheila, a person might want to gain experience in a different store or maybe in a different department. Doing so allows them to acquire new insight into their role by seeing it from a different perspective. In Sheila's case, this has become a long-term placement, but secondments usually last for a minimum of 6 months, enabling you to learn and develop properly.
What are the advantages of a secondment?
Participating in a secondment can help you understand your role on a deeper level and learn more about your company. Here are just a few of the benefits:


Gain new experience and add layers to your existing knowledge
Network with employees from different departments and in various roles
See things from a new perspective and learn how you can apply what you've experienced to your usual role
Build your confidence in your skills
Learn what opportunities exist within your company
Become known as a subject matter expert and help guide others by sharing knowledge
Gytis, another of our colleagues, has enjoyed these benefits, and he's a great example of the wide-ranging opportunities we have throughout our Group. He previously worked in our Travis Perkins distribution centre as Distribution Shift Manager, but more recently he was seconded to Magna Park as an Operations Manager for BSS.
Find your next role with career progression at Travis Perkins
Travis Perkins has been one of Britain's most trusted brands for over 200 years. Encompassing some of the building industry's most popular brands, Travis Perkins invests heavily in employee development. They have more than 1000 apprentices and 40+ apprenticeship programmes, as well as many secondment opportunities for employees.

As a Travis Perkins employee, you can expect upskilling, networking, and development at every step of your career. Start by reading more about why Travis Perkins is a great place to work. Then, apply for a Head Office and Central Services job, or sign up for job alerts to be the first to know about new opportunities.
List #1
Roles you may be interested in