Advanced Level Apprenticeships at Travis Perkins – Katy's Inspiring Journey
When you think of an Apprentice you might imagine someone straight out of education, taking those first steps in their career. But according to a House of Commons report, in the 2021/2022 academic year, those over the age of 25 accounted for 47% of all new Apprentices.
At Travis Perkins, we recognise the need to raise and standardise skill levels across a range of occupations. Whatever part you play within the company, and whatever stage you're at in your career, it's never too late to get yourself on a programme that will serve you well for years to come.
Katy Pengilley did just that. Not only has Katy completed an Apprenticeship with the Group, but she's also now coming close to finishing her second.
We spoke to her about her career path from a Resourcing Coordinator to Talent Acquisition Lead, and how her Apprenticeships have helped her make that journey.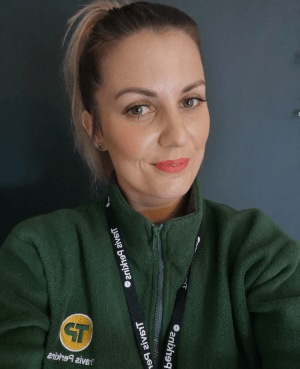 "I started in recruitment externally in 2011 as a recruitment coordinator and I've grown from there"
After joining Travis Perkins in 2013, Katy began recruiting across marketing, commercial, HR, legal, property and head office support positions.
Several years later, she branched out and joined our Benchmarx team, recruiting for kitchen designers, branch managers, assistant branch managers and telesales staff.
Then in 2019, she went back to her roots, recruiting for support functions. But this time, she was taking on a role that got her more involved in the strategy and the impact of these support function roles.
Having gone full cycle, Katy has taken insight from different areas of the business and used it to hone her unique set of skills.
"When I joined the Benchmarx team in 2017 I was clear with my manager that I wanted progression and to develop myself"
Katy stresses the importance of putting yourself out there. While there's always going to be a natural progression, the real opportunities present themselves to the self-starters - the people who figure out what they want to do and position themselves within a role, seeing to it that their managers recognise their merit.
When Katy was put forward for the Managing a Team Level 3 Apprenticeship scheme, she jumped at the chance.
She passed it with a distinction, so when she was then offered a place on the Manager Development Programme Level 5 Apprenticeship, it was a no-brainer. Katy explains there is a noticeable jump going from Level 3 to Level 5, but it's great to see her knowledge broadening.
"I've had the chance the collaborate with lots of people in the new virtual world – those who I would never get to go out and meet normally"
Starting her Level 5 Apprenticeship in May 2020, Katy will be one of the first colleagues at Travis Perkins to complete the programme, having done it almost entirely remotely.
Working from home means she can now stagger her coursework throughout the week, rather than having to set aside one day.
She explains that breaking up the day with her Apprenticeship work also means that she can apply what she's learning to her work and she can see how the theory comes together.
"Starting my Level 5 Apprenticeship was all about learning the modules. Now I'm working on putting the skills and knowledge into practice"
With just a few months to go before she completes the programme, Katy is now getting stuck into her project which she'll then present to her mentor at the end.
She explains that it's great to get involved in a real-life project, one that challenges her way of thinking. Though she's keeping the details of her project under wraps for now, we can't wait to see what she comes out with.
"The Group's dedication to encouraging good mental health is something very important to me. It's great to see them broadening their commitment to keeping everyone safe"
Beyond a host of new skills, the Apprenticeship ends with a recognised Chartered Institute of Management qualification. A worthy recognition for the hard yards that have been put in.
Katy says she's stayed at Travis Perkins Group because of the culture, people, opportunities and work-life balance. A major highlight for her was the Wellbeing Week hosted in 2020 where external speakers and people within the business talked about wellbeing and health.
As someone who has struggled to keep her morale high during the pandemic, it was encouraging for Katy to see the Group promote taking one-hour screen breaks during the day.
She says it's just another example of the journey the Group is on to make sure everyone's mental health is where it should be.
Michael, who progressed from a part-time Yard Assistant to Branch Manager in four years, found that our supportive nature also resonates with him and now, he's one of our Stay Well Ambassadors working across the whole Group.
Katy believes that as long as you have a supportive manager, there's no reason why you can't grow your role and get what you want from your career. That's exactly the kind of attitude we love to see from those looking to join our Apprentice programmes.
Start your Apprenticeship journey with the Travis Perkins Group
Katy's story shows that whatever your level of expertise, there's a programme for you.

Browse our latest Apprenticeship roles across the country, and read more Apprenticeship stories from other colleagues in the business to find out more about the different opportunities we offer for all levels at Travis Perkins.
List #1
Roles you may be interested in